A non-vegetarian diet provides all essential nutrients to the body. More than 60% of Americans are overweight or obese. The main cause of obesity is due to the consumption of junk food or due to medical conditions. By choosing a healthy diet, you stay protected from catching dangerous diseases like cancer, diabetes or heart diseases. Proper exercise and a low-carb diet is the way to reduce weight and stay healthy.
Diet often plays an important role in reducing weight. A vegan diet helps you shed the extra pounds in just a few weeks or months. Having meat-free, dairy-free and gluten free diet may help one reach his goal. For breakfast, you can have millet cereals topped with bananas, blueberries and almond milk. Lunch can be a little light with a kale salad with red peppers. Kale is rich in vitamins and minerals. For dinner, you can have pasta with a topping of vegan cheese and tomatoes. Changing a diet plan is big step, but the huge impact it has on your overall lifestyle will be huge!
What exactly is a vegan diet?
People often confuse vegan as vegetarians. A vegan diet is not a complete vegetarian diet. Vegetarians eat eggs but vegans do not eat meat, fish, or poultry or anything of animal origin. A vegan diet basically includes fruits, vegetables, plenty of green leaves, whole grain products, nuts, seeds and legumes.
Proteins- Almost every food item provides protein except alcohol, sugar or fats. Some good protein rich foods

includes

: chickpeas, lentils, nuts, seeds, mushrooms, potatoes, broccoli, walnuts, oatmeal and corn.
Fats- Vegan diets are cholesterol free and low in saturated fats. The diet reduces


the

risk of getting heart diseases and cancer. Oils, margarine, nuts, nut butters, seed butters, coconut and avocado are some high fat foods which should be consumed in lesser quantity.
Calcium- Calcium is

require

for strong bones and teeth. Foods

whic

are preferred by vegans include green veggies, tofu made with calcium

sulphate

, kale, broccoli, beans, orange juice and calcium fortified soy milk.
Good sources of calcium are tabulated below:

Other sources of calcium includes: turnip greens, soyabean, almond butter and commercial soy yogurt.
Zinc and Iron- Vegan diets providing zinc are present in grains, nuts and legumes. Iron can be found in dried beans and dark green vegetables like lettuce and spinach. To enhance iron absorption, one may try foods that are rich in vitamin C along with iron foods. Some iron rich foods are

soyabeans

, kidney beans, lentils, black beans, tahini, peas, raisins and watermelon.
Vitamins- B12 and D- To increase vitamin B12 content in

body

, one may take multivitamins or supplements as suggested by health experts. Vitamin B12 rich foods are yogurt, fortified nutritional yeasts and fortified soy and rice milks. To get vitamin D one should get exposed in sunlight which is the richest source of vitamin D. Some brands of non dairy milks and fortified orange juice are rich in calcium and vitamin D.
Some more foods preferred by vegans are tabulated below: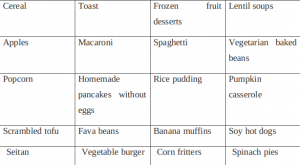 There are a lot of healthy vegetarian recipes which are great for vegans who wish to lose weight. For breakfast, a vegan can have jumbo chickpea pancake, blueberry oatmeal waffles, jelly filled muffins or toast with fried beans and avocado. For lunch and dinner the options are: a vegan sandwich, sun-dried tomatoes, mushroom and spinach tofu quiche, smoky butternut squash sauce with pasta and greens, easy flaked almond tuna salad, black bean and potato nacho plate and Thai sweet potato burger.
Some other diet plans including gluten free, HCG and low carbohydrate diet. These diets also help to lose weight fast.d potato nacho plate and Thai sweet potato burger.
Types of diet plans
Beside vegan diet, Gluten free diet is another diet plan that is gradually gaining popularity. Gluten is a type of protein found in certain foods like cereals, grains and wheat. Gluten helps to maintain elasticity intact during fermentation of foods. Foods consumed in this diet help in weight loss and make us healthy. People having Celiac disease are advised to have gluten free diets. Foods that one can eat include chestnuts, corn, flax, herbs, lentils, millets, corn, soy, buckwheat, rice, seeds, nut flours, rapeseed oil and sago. Some other foods like meat products, tofu, poultry, fish, fruits and fresh or frozen vegetables form part of a gluten free diet. Another diet followed by millions of people is HCG diet. There are two parts associated with the HCG diet plan. The first part includes the choice between oral HCG alternatives or HCG injections in order to keep hunger down while targeting body's storage fat. Second part consists of low calorie diet. One can have tea or coffee sweetened with stevia, 2 liters of water a day, fruits, vegetables and melba toast.
Following HCG injections along with the diet plan may help to reduce weight. But this diet has not been approved by FDA, so we cannot really get assurance about weight loss. Another diet plan that one can consider for weight loss is a low carbohydrate diet. In this diet one limits carbohydrates intake like grains, starchy veggies or fruits and focuses on dietary proteins and fats. A low carb diet also helps in reducing risks of heart diseases, cancer and diabetes. A low or no carbohydrate meal may include: beef, tofu, chicken, fish, eggs, nuts, seeds, peanut butter, cheese and non starchy vegetables like carrots, broccoli, salad and green beans.
These diet plans can largely help in weight loss and differs according to individual's preference.
Final words
Limiting your food intake to just plant based foods helps in preventing major chronic diseases like heart diseases or cancer. It is fact that cardiovascular diseases are the leading cause of death in America, killing millions of men and women in a year. Having a low fat vegetarian diet may help in preventing coronary artery diseases. A vegan diet followed by other diets like gluten free or low carbohydrates may help in weight loss, while also providing essential nutrients to the body. One may opt for vegetarian recipes that suit his body type because eating well is very important to stay healthy forever.
Know anyone who's deciding to go the vegan way, then please share this blog with them. Also, post any comments if you have any health-related queries.
Also Read: Top 10 Benefits of Being a Vegetarian
Get useful health tips and remedies regularly, on your Facebook feed.