People do various things to upgrade their skin quality by applying multiple face packs and other creams. But no product is as effective as "Aloe Vera", which is a wonder plant. Aloe Vera is a stemless or very short stemmed plant, that belongs to the succulent plant species, found in the regions of northern Africa. Aloe Vera is regarded as one of the most famous plants in the world, and has been used from ancient times due to its medicinal properties. It has been mentioned in the Bible that Aloe Vera was Cleopatra's beauty secret. This is quite an incredible medicinal plant that's full of nutritional benefits, healthy for skin and hair.
Aloe Vera generally produces two substances, gel and latex. Both are used for medicinal purposes. Aloe gel is a clear substance, which is found in the inner part of the aloe plant leaf and the aloe latex comes from under the plant's skin.
Incredible benefits of Aloe Vera:
The Aloe Vera plant is easy to grow in any type of climate and many people grow it as a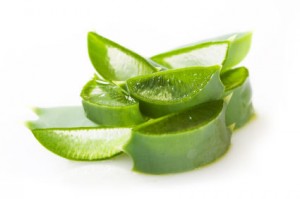 house plant. It is famously known as the plant of immortality and the spiky green gem has a rich history like the ancient Greeks, who used it to cure everything from baldness to insomnia. Moreover, its extracts can be consumed as juice, dried extract capsules or can be applied as a tropical lotion. Multiple benefits of this wonderful plant are as follows:
Antiseptic properties- Aloe Vera is the best natural antiseptic cream you can get your hands on. Its antiseptic properties include salicylic acid, which acts much the same way as aspirin. It helps in lowering the inflammation.

Cinnamonic

acid restricts the growth of bacteria.
Great for skin- Due to the water content (over 99% of water) of Aloe Vera, it's a great way to hydrate and rejuvenate the skin. Due to the aloe's well-known healing properties for the skin, it is one of the main compounds used in the cosmetic industry. Moreover, it acts as an

antipruritic

that prevents itching.

Immunity enhancer- The Aloe Vera plant consists of a plethora of

antioxidants which

are known as natural immunity enhancers.

Antioxidants

present in this plant help in fighting against free radicals in the body. Consuming Aloe Vera juice regularly boosts the immune system. 
Decrease inflammation- Aloe Vera juice contains natural substances which help in slowing down the inflammation caused by injuries without causing any side effects. Regular consumption of Aloe Vera juice helps in reducing the pain in joints and stiffness of

bones

. The cooling effect of this amazing plant helps in regenerating new cells and in rebuilding the damaged tissue caused due to scars, burns and cuts. 
Wrinkle repair- Aloe Vera gel enters the skin four times faster than water and its super healing properties helps in

moisturising

the under layers of the skin. Vitamins C and E present in Aloe Vera

helps

in improving the skin's firmness and keeps it hydrated. Moreover, it improves the skin's elasticity by minimizing the appearance of wrinkles. Thus, it makes the skin refreshed, vibrant and younger looking. 
Anti-acne properties- Aloe Vera act as an anti-acne product. Basically, it does not completely cure acne. But it reduces the inflammation and redness of the skin to a great extent and also helps in preventing the outburst of acne and pimples. 
Digestion and constipation- The use of Aloe Vera is approved by various health care agencies for the treatment of digestion and constipation. It helps in improving the digestion, and detoxifying the body. This will lighten the toxic load on the body and gives you more energy.
Protection against ultraviolet (UV) irradiation- Researchers of an American university explained that UV irradiation induces photo-damage of the skin and can permanently change skin structure. But, it has been proved by the researchers that due to the cooling and soothing properties of Aloe Vera, it also protects the skin from ultraviolet irradiation.
Also Read: 8 Genius Ways To Use Veggies for Weight Loss and Boosting Health
 Cardiovascular health- Some studies have proved that Aloe Vera extract injected in the blood helps in multiplying the oxygen transportation and diffusion capabilities of the red blood cells. Aloe Vera usage helps in regulating blood pressure, improving circulation, and lowering cholesterol and the risk of heart disease.
Teeth and gums– Various studies

state

that Aloe Vera is very effective in fighting against cavities and other gum diseases. Aloe latex contains

anthraquinones

compounds that help in reducing pain due to natural anti-inflammatory properties. Further, Aloe Vera gel is less harsh on the teeth than normal toothpastes because it does not contain abrasive elements. 
Internal

health

– Due to the presence of water, 20 minerals, 12 vitamins, 18 amino acids and 200 active compounds, Aloe Vera helps in restoring vitamins and amino acids

to

our diets. These ingredients help in building the body's

defence

system naturally against stress. 
Treating hair loss- Aloe Vera was used by the Egyptians in the ancient times to treat hair loss. Due to the proteolitic enzymes found in Aloe Vera, it helps in eradicating dead skin cells on the scalp and promotes hair growth. Further, Aloe Vera's alkalizing properties help in balancing the pH level of the scalp and hair, resulting in hair growth and increased moisture on the scalp.
Helps in treating asthma- People with problems of asthma may prefer Aloe Vera. They just need to breathe in the

vapour

of aloe leaves boiled in water to get immediate relief. 
Aloe Vera is beneficiary in dandruff treatment- The natural enzymes found in Aloe Vera help in eliminating scalp dryness that causes dandruff. Due to its anti-fungal properties, it lightens the dry and itchy feeling of the scalp and provides a cooling sensation to the scalp.
Hair shiner- Aloe Vera acts as hair conditioning agent and provides

the silkier

and smooth sensation. Amino acids present in Aloe Vera add strength and

lustre

to the hair and enhances the beauty and suppleness of the hair. 
Treating bedsores- It has been proved in a recent study that a spray containing aloe reduces the severity of sores compared to a standard treatment spray.
Insect repellent– Try to apply a lotion containing coconut oil, jojoba oil and Aloe Vera to the feet twice a day for one week. It will result in the reduction of the number of sand fleas in people with flea infestations.
Diaper rash- Researches have suggested that applying a cream containing aloe gel 3 times a day for 10 days reduces the severity of diaper rash in children. 
Anti-allergic properties- Aloe Vera is very useful in treating various skin diseases such as eczema, psoriasis and itchy skin. Anti-allergic properties of Aloe Vera help in curing blisters, insect bites and other allergic reactions. It is like a boon for people who have a sensitive skin type.
Finally, try to make Aloe Vera as a part of your daily life because of the countless benefits. It is a fact that it does have a pungent taste but if you can't cope with taking it straight, then you have other options too. You can add it in your smoothie and mix it in your juice. Now, the choice is all yours.
Also Read: HCG Vaccines: Best way to Deal with Infertility in Women
Share this article with friends who suffer from skin irritation, rashes, hair fall. For any health concerns, you can post your queries in the comment boxed listed below the article.