Sitting in office, time for lunch and thinking what to eat? Nothing could be better than sushi, which is a favoured lunch time meal for many working professionals. The Japanese are known to be among the healthiest people in the world, and they sure love their sushi. Sushi is quite a healthy meal providing many health benefits.
There are many types of sushi available out there. All of these are made with a wide variety of ingredients including vegetables, seafood and sea vegetables. The basic ingredient of all sushi is rice and other ingredients we choose to have on the sushi indicate its nutritional value. There are varieties of sushi, which includes rice, meat and vegetables, and also pure vegetarian variants of the same. Other sushi varieties are wrapped in nori (a type of sea vegetable) and sea vegetables, which provides many minerals like iodine and phytonutrient lignans. There are many restaurants which provide sushi made from avocado, cucumber, burdock, umeboshi plum paste and natto. As per the studies, scientists in Japan found that sushi diet when consumed-flavored parcels of rice with raw fish and vegetables have the potential to protect smokers from lung cancer.
Healthy sushi
It's been found that about more than 65% of adults living in America are either overweight or obese. They find several ways to lose weight but following sushi diet could be the healthiest option for them, providing sufficient nutrients that supports weight loss.
Also read: The Best Foods That Helps In Shedding Weight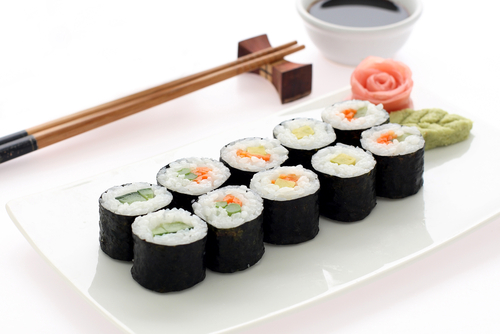 Varieties of healthy sushi
California roll- California roll is one of the kind of sushi roll. It is a popular food in the US market. The healthy ingredients present in California roll are imitation crab, or pollock, avocado, cucumber and nori, or seaweed, and short-grain white rice. If you wish to lose weight, then California roll would be a great pick because a roll of six pieces contains several essential nutrients that support weight loss. It offers 282 calories, or 14 percent of a standard 2,000-calorie diet; 9 grams of fat, or less than 2 percent of the 65 grams Food and Drug Administration daily value and 3.6 grams of fiber, or 14 percent of the 25 grams FDA daily value. Including California roll in the diet plan provides dietary fiber, which helps to make us feel full, and further it helps to regulate carbohydrate absorption and improves metabolism.
Spicy tuna roll- Spicy tuna roll is another sushi roll, which includes tuna, short grain white rice, nori and spicy sauce. The roll offer 290 calories, or 15 percent of the standard 2,000-calorie diet and 11 grams of fat, or 17 percent of the 65 grams FDA daily value. If you include a low calorie spicy tuna roll in your everyday daily plan, then it would help to lower energy expenditure requirements too. 
Remember sushi is a dish and not a single ingredient, so it is important to consider all of the parts when you talk about nutrition. Nori the seaweed wrapper is high in iodine whereas ginger and wasabi contains several antioxidant compounds and vitamins and minerals. The main thing about sushi is that it provides a high level of omega-3 and selenium.
Also read: Astaxanthin- Nature's Most Potent Antioxidant
Healthy Sushi benefits
Heart health- Consuming healthiest sushi diet is not only tasty, but gives access to concentrated forms of omega-3 fatty acids. In short, this good form of cholesterol balances out and try to eliminate bad cholesterol from the body. It also prevents clogged arteries and health problems like atherosclerosis, heart attacks and stroke. Also omega-3 fatty acids lower blood pressure and increases body's metabolism.
Hormone regulation- People eat sushi thinking it is a fish, but there are also other components in sushi which are healthy enough. In Japanese it is termed as nori, which is high in iodine. Iodine is very important for the regulation and control of the endocrine system i.e. thyroid gland. Having proper level of iodine in the system assures that the hormones are properly balanced in the body.
Prevent cancer- Sushi is much more than a fish. Wasabi and ginger are served with sushi and both have anti carcinogenic and anti mutagenic properties. The antioxidants present help to neutralize free radicals before they could cause healthy cells to mutate into cancer cells. As per the studies, many varieties of fish are rich in minerals like selenium which has cancer fighting properties.
Also read: Multiple Myeloma: An Overview of Symptoms, Causes, Diagnosis and Treatment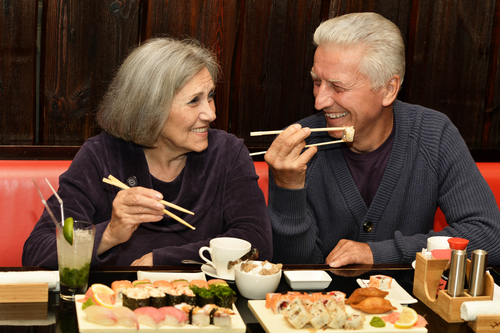 While we know that a sushi diet provides many health benefits, but you should also know that there are some sushi rolls that adds a lot of unwanted fat from cream cheese to deep fried shrimps. You could try nigiri sushi, which is served in pairs and consist of raw fish and rice; this makes it a much healthier sushi option than contemporary sushi rolls. Another way to remain healthy while enjoying Japanese food, is to cut back soy sauce, which is comparatively very high in sodium. In this way eating sushi would make you healthy enough without any weight gain.
Also read: How to Improve The Immune System With Best Foods!