Getting pregnant and starting a family is one of the most precious dreams of any couple, but unfortunately for some women conceiving is not an easy task. Some can plan their family whenever they want, but for some ladies, the process of fertilization becomes a nightly chore. In a way to search the exact cause of fertility, the couple tries a different thing like ovulation kits, specific sexual positions and undergoes unending tests of fertilization to know the reason behind the failure to conceive.
Ovidac for Fertility Issues
When it comes to fertility treatments, science has made enough progress in the field that there are some techniques to increase the chances of conception. The exact cause of infertility and the patient's condition determine the type of treatment to be given to resolve the fertility issues. There are numerous methods and fertility medications, available to treat fertility problems; still one of the most popular among all these is Ovidac, which is the most effective antifertility medication available in the pharmaceutical industry.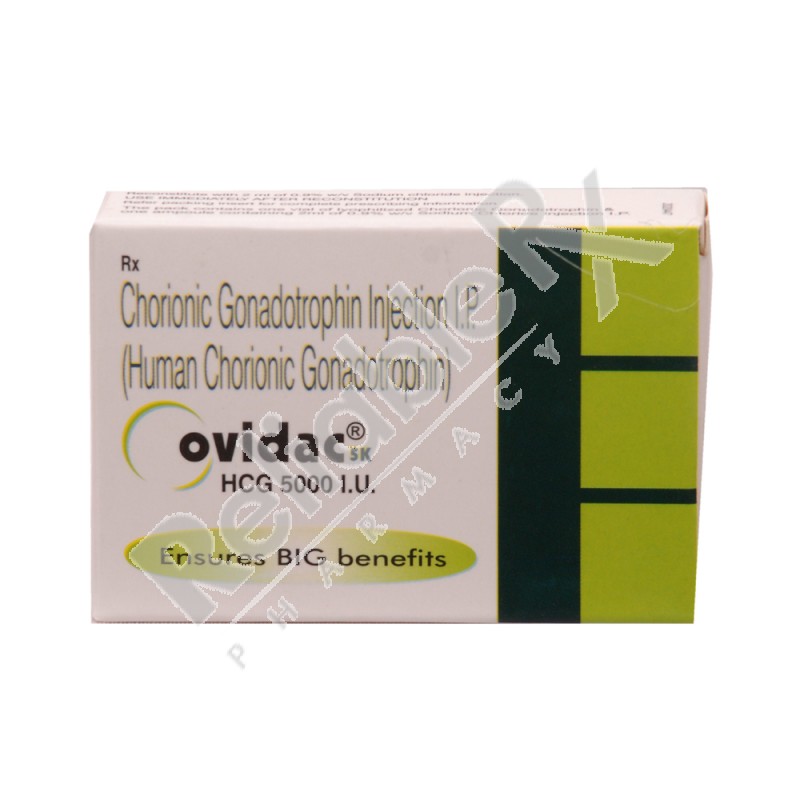 Ovidac can effectively resolve infertility issues and provide you with a unique feeling of parenthood. It is the most physicians's recommended drugs for women who are trying to conceive for over a year. There are two prime reasons for infertility which include the poor ovarian response in women and low sperm count in men. An anti-fertility drug like Ovidac triggers ovulation, increasing birth outcomes. It works magnificently to make ovaries of a woman work fine suitable for fertilization.
The Mechanism of Action
Ovidac is made up of Human chorionic gonadotropin (HCG), a luteinizing hormone analogue. In women, the active ingredient helps in the growth and maintenance of the corpus lutetium and encourage the production of progesterone. It induces ovulation and causes the egg to release from the ovary. In males, it works by enhancing the production of testosterone hormones by producing Leydig cells of the testes.
Dosage and Usage Directions
The anti-fertility treatment must be given intramuscularly as it is available in an injectable form. In women the does recommend to induce ovulation is 5000IU to 100000 IU, followed by administration of menotropins.
For males, one injection of 500 to 1000 IU from 2 to 3 times every week. The treatment should be followed by the same dose twice a week for three weeks.
The recommended dose for the treatment of prepubertal cryptorchidism, 5000 IU should be administered via an intramuscular route on every other day.
Don't panic in case you forget to take medicine, take it as soon as remember. Do not exceed the recommended dose of Ovidac injection.
Nominal Side Effects of Ovidac Injection
An individual using this anti-fertility medication may experience some side effects. These may include a headache, irritation, bad temper, and frustration, redness at the injection site, headache, and tiredness.
Possible Drugs Interactions
Some medicines that may show drug interaction with Human chorionic gonadotropin include Follistim, antagon, and ganirelix. Hence, avoid taking these medications during the treatment with Ovidac. These medicines can alter the therapeutic effects of HCG.
Necessary precautionary measures while administering Ovidac
Do not use the Ovidac injection if you are allergic to its active constituent Ovidac.
If you have undiagnosed bleeding hypersensitivity, epilepsy, and prostate cancer, this medication is not a choice for you.
The use of this anti-fertility drug is contraindicated in case of asthma, liver, kidney, heart disease.
Never attempt to exceed the recommended dose limit.
Always use this medication under proper medical guidance. In case you don't know the appropriate way of using it intramuscularly, consider taking the advice of a healthcare expert.